Sometimes we need to get away and unwind. Whether you fly across the globe or opt for a staycation at a local hotel, nothing beats feeling refreshed and recharged after a few days away. If you're into yoga, you've probably heard the buzz around yoga retreats. These days, many retreats combine R&R with leadership training to help boost your personal and professional growth. In this article, we explore 4 yoga leadership retreats every yoga practitioner should consider. By the end of the article, you'll want to pack your yoga bag and jet off!
1. The Triple W Forum Retreat
The first pick on the list is the Triple W Forum Retreat, held in Boone, North Carolina. Designed and run by Jennifer H.G. Connelly, the retreat energizes professionals to help them find new approaches to leadership. The retreat doesn't just cover the leadership of others, but also how to lead your own life with ease and reconnect with your true self.
After a long career in marketing and PR, Connelly started to feel disillusioned. Despite being successful and achieving her dreams, she felt lost and unwell. To try to fix things, she set out to find a manageable integration of work and life. The result of this was the Triple W Forum, which stands for the Working Women's Workshop. She hoped the forum would bring working women together to talk about work-life balance and find harmony between professional and personal life. Today, the retreat also serves men.
Connelly believes that finding this balance makes us better leaders. The retreat is set in the Blue Ridge Mountains of North Carolina and kicks off with a Birkman Method assessment to define your leadership strengths. This is similar to the Myers-Briggs test but has a stronger focus on what motivates people. Throughout the retreat, the programs will help to cement those strengths and help you to find the balance needed for success.
Also known as the Work-Life Integration retreat, the program is made up of time in and time out. During the time in sessions, you'll get to know others on the program, participate in open mic nights to share your stories and talents and enjoy yoga sessions among the trees. The time out sessions involve taking time for yourself: experimenting in the clay studio, Ayurveda spa treatments, daily yoga and mindfulness training, and one-to-one coaching sessions.
By the end of the retreat, you'll have a better understanding of your personal needs and how to manage them. You may discover the power of breathing techniques at your desk or find an empowering mantra to use on the way to a meeting. These little things can make a big difference to your personal needs and self-care and translate into your role as a leader.
2. SoulSpeak Wellness: Women's Empowerment Yoga and Leadership Retreat
The foundation of the Women's Empowerment Yoga and Leadership Retreat is looking within. Retreat leader, Carry, has designed a series of yoga postures that relate to specific leadership traits. These include compassion, accessing personal power and expressing creativity. As the director of Speaker Curation for TEDxPasadena, Carry helps TED speakers prepare through self-exploration.
Held at yoga center Soulshine Bali, the retreat features themes that emerge in practice such as meditation, focusing relevant chakras and evening leadership coaching. By the end of the program, you'll be able to listen to your intuition, connect to your roots and tune into feminine energy.
This SoulSpeak retreat is specifically designed for women. Carry believes that as there aren't as many women in leadership roles, it can be harder to find support and mentorship. She wanted to create an experience where women could take off their masks and support one another. By coming together at SoulSpeak, women can create the network that men have had since the beginning.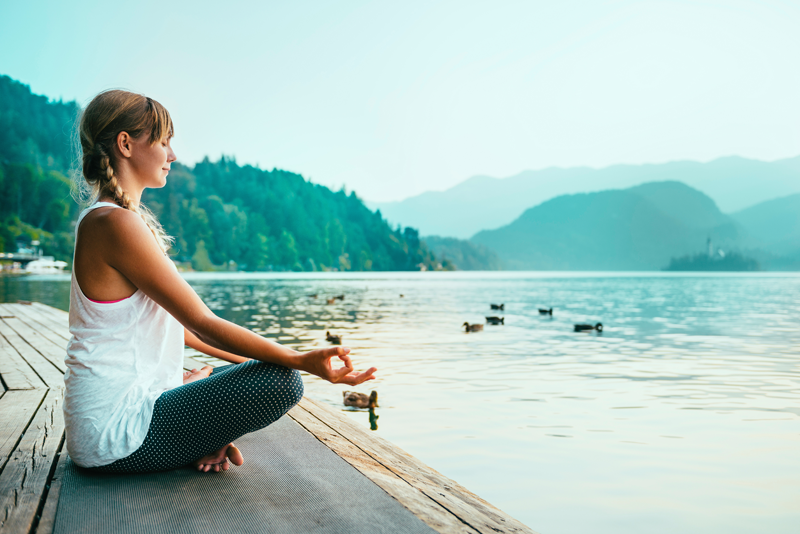 3. Molly Birkholm Corporate Retreats
If you're looking to develop your yoga leadership qualities, sign up for a Molly Birkholm Corporate Retreat. As a keynote speaker, teacher and writer, Molly Birkholm inspires people to create meaningful changes at retreats, online courses, worldwide conferences, and yoga teacher training programs. Molly also uses research-based yoga and meditation techniques to create stress management programs, trauma treatment programs and resiliency training for top organizations, including the American Psychiatric Association, US Department of Defense and the Young Presidents' Organization.
Molly offers four yoga and meditation teacher training programs: iRest Yoga Nidra Guided Meditation, Transforming Trauma with Yoga and Yoga Nidra, Warriors at Ease (for veteran and military communities) Teacher Training and Specialized Trauma Sensitive Yoga and Meditation Trainings and Workshops. These retreats allow students to learn from Molly in-person and connect with a community of people with common interests. All the techniques taught in the training are research-based and used by organizations across the globe.
4. Ocean and Yoga Retreats
Ocean and Yoga is a series of yoga retreats held on the beaches of Portugal. Founder, Jan Toepfer, believes that a day on the beach is quieting, humbling and soul-cleansing, and opens the mind to creativity and leadership. The organization runs a few different retreats, including Panchakarma detoxes and family-friendly yoga breaks for parents and kids.
To cultivate leadership, Jan has created a holistic retreat that merges purpose and play. According to Jan, the aim is to live a life of inner connection, creativity, and freedom and to drop the unnecessary stories we've written about ourselves.
The Ocean and Yoga retreat combines leadership coaching with asana, pranayama, meditation, time in the sun and homemade organic meals. The transformative program opens the mind and teaches you more about who you are. By doing this, you'll empower your inner leader and improve your leadership qualities.
In Summary
So, there you have it – 4 yoga leadership retreats every yoga practitioner should consider. If you're interested in getting involved, book a place on one of the retreats above. Most retreats supply healthy, organic meals and toiletries, so all you'll need to pack is some sweatpants and a cozy yoga hoodie.