Suitable for all abilities, yoga challenges are designed to push your limits mentally, physically, and spiritually. Typically, the challenge will be a specific sequence of daily workouts to stretch and strengthen your body in a holistic way. If followed properly, the challenge should leave you feeling stronger, lighter, and more relaxed.
When it comes to starting yoga, the hardest thing is the first step. With this in mind, many yoga challenges are designed to provide an easy start to the practice. By the end of the challenge, yoga pants will be part of your daily routine. In this article, we explore some of the best yoga challenges on the internet.
Ekhart Yoga – 30/30 Yoga Challenge
In Ekhart Yoga's 30/30 Challenge, you practice 30-minutes of yoga for 30 consecutive days. Throughout the program, you'll work through sequences that focus on core and balance postures, then move onto a course that integrates the two. This cycle is then repeated until the challenge is complete.
If you're a beginner or intermediate student hoping to take your practice to the next level, this challenge will not disappoint. The well-designed program will help you focus on your problem areas and develop the skills to overcome them.
7 Days Of Yin Yoga
Yin yoga balances the yang energy that we create in our daily lives and a typical vinyasa class. This challenge is short and sweet, consisting of only 7 classes. Throughout the challenge, you'll practice 30 minutes of Yin Yoga each day to unlock some of its many benefits. If you want to increase your flexibility, this challenge may work well for you. Through a series of prolonged stretches, Yin Yoga trains your muscles to relax on a deeper level.
Yoga with Adriene – 30 Days Of Yoga
With expert knowledge of all things yoga, Adriene is one of the most popular online yoga teachers. In her 30 Days of Yoga challenge, she delivers 10-30 minute videos that explore both the physical and emotional aspects of yoga. In addition to physical postures, the challenge covers meditation and the activation of chakras. If you're an intermediate yogi looking to expand your knowledge, this challenge will not disappoint. While the challenge is suitable for all abilities, it may take newbies a few courses to get the hang of it!
Holiday Challenge – 12 Days Of Restorative Yoga
In the busyness of modern life, it can be harder to set aside time to relax that to work out. If this rings true, this is the challenge for you. As the name suggests, 12 Days of Restorative Yoga explores the benefits of the restorative practice.
Originally, this challenge was created to reduce holiday stress. However, there's no reason to restrict this challenge to a certain time of year. If you're experiencing stress at work, school, or home, 12 Days of Restorative Yoga will help you to come out the other side. Many people use this before a stressful personal event, like a wedding, and find that it helps to keep them cool, calm, and collected as they approach the big day.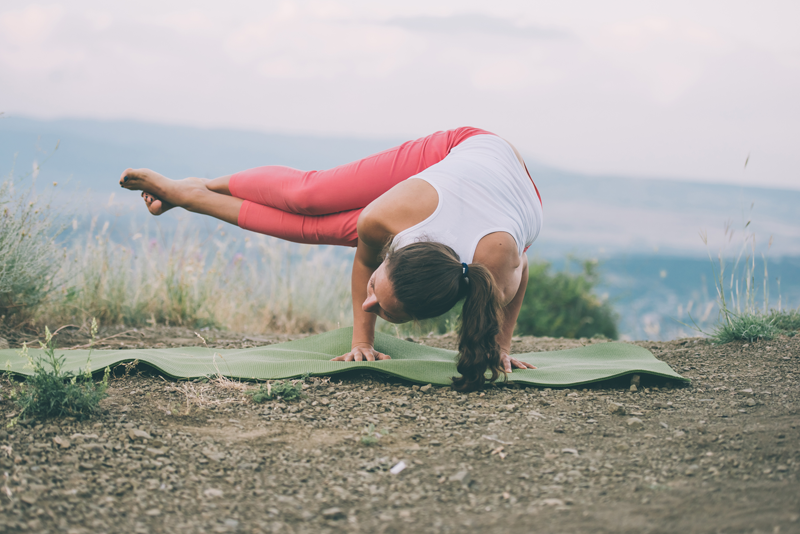 14-Day Yoga Shred Challenge
If you don't want to commit to 30 days, try out this 14-day Yoga Shred challenge instead. Ideal for those with a hectic lifestyle, practice for just 10-15 minutes each day for two weeks. This challenge focusses on High-Intensity Interval Training to facilitate calorie-burn and weight loss. If you're an intermediate or advanced yogi, you'll have no problem with this challenge. However, if you're a complete beginner, you may prefer to try out one of the 30-day challenges before committing to this one.
Yoga for Beginners – 30 Day Challenge
If you're new to yoga, this challenge is perfect for you. Run by yoga teacher Lesley Fightmaster, Yoga for Beginners is a 30-day challenge that covers all the basics. Lesley genuinely believes that yoga can change your life but also understands that the world of yoga can be intimidating to a newbie. To help new students get started on their yoga journey, Lesley covers everything from breathing and alignment to fun transitions.
The Original Yoga Challenge
Created by Bad Yogi, the Original Yoga Challenge launched back in 2013. Since then, it has gathered over 12 million views on YouTube. If you want to focus on the basics, this is the challenge for you. By practicing for 10-15 minutes each day, you'll improve your strength, flexibility, and balance as you follow along with yoga instructor Erin Motz.
30 Day Yoga Challenge By DoYouYoga
The 30-Day Yoga Challenge by DoYouYoga is super easy to practice. Each video is just 15 minutes long, so it should be easy to slot into your daily routine. Classed as an introductory series, this challenge is another great one for beginners. Throughout the month, you'll learn everything from balance postures and backbends to meditation and restorative yoga.
Yoga Fix 90
Research has shown that it takes 66-days to form a habit. With this in mind, yoga challenges that surpass this timeframe can be truly transformative. Yoga Fix 90 directs you through 3 whole months of yoga, targetting all the main muscle groups through different yoga styles. Incorporating everything from HIIT classes to restorative sessions, you'll come out the other side feeling like a new person. Once you've completed the challenge, try re-practicing the earlier videos to see how far you've come!
In Summary
So, there you have it – the best yoga challenges on the internet. With the wide selection above, you're guaranteed to find something you enjoy! These programs don't require any special preparation or equipment – all you need to get started is a comfortable pair of sweatpants and a yoga cap