Today, more and more people are enjoying the health benefits of a plant-based diet. This rise in popularity has encouraged vegan restaurants to pop up all over the US. With a range of specialties to choose from, clean-eaters can enjoy all their favorite foods without the guilt. With fantastic eateries all over the US, there is bound to be one close to your yoga studio. After class, head straight there to enjoy a nourishing and wholesome meal. You don't even need to change out of your yoga top! In this article, we explore the most popular vegan restaurants in the US.
Millennium, San Francisco
The first pick on the list is Millennium. Amongst the vegan community, this restaurant is nothing less than legendary. Located in San Francisco, Millennium has been serving a range of organic, plant-based dishes for over two decades. While the basic menu is consistent, the specials change fairly often depending on the fresh produce. Incorporating a variety of cuisines, the menu is seasonally driven to ensure the food is as fresh as can be.
Sutra, Seattle
Located in Seattle, Sutra is a vegan restaurant with a twist. Instead of focusing solely on the taste buds, the food aims to appeal to all of the senses. Before taking your first bite, take time to enjoy the beautifully presented feast. The inside of the restaurant is vibrant and uplifting, and each dish is displayed on aesthetically pleasing crockery. To make the most of the freshest seasonal ingredients, the menu changes frequently. During your visit, you can enjoy five different courses. As the menu is pre-set, the flavors of each course are designed to complement one another perfectly. In addition to their mouth-watering food, Sutra offers community yoga classes and retreats to nourish both body and mind.
Vedge, Philadelphia
While Vedge specializes in plant-based food, the restaurant is popular amongst vegans and meat-eaters alike. As the menu is entirely free of animal products, vegans can order anything that tickles their fancy. Welcoming customers of any food persuasion, the restaurant has a bustling atmosphere every day of the week. Run by a team of experienced chefs, the dishes are so delicious that customers don't even think about the meat that they're missing!
Plant, Asheville
Located outside of the big cities, Plant is another popular vegan restaurant. From the small town of Asheville, the eatery attracts customers from all over the US. As well as serving fresh, locally sourced food options, Plant focusses on building the community and reducing its impact on the environment. The simple, yet delicious, menu changes frequently to accommodate the freshest seasonal produce.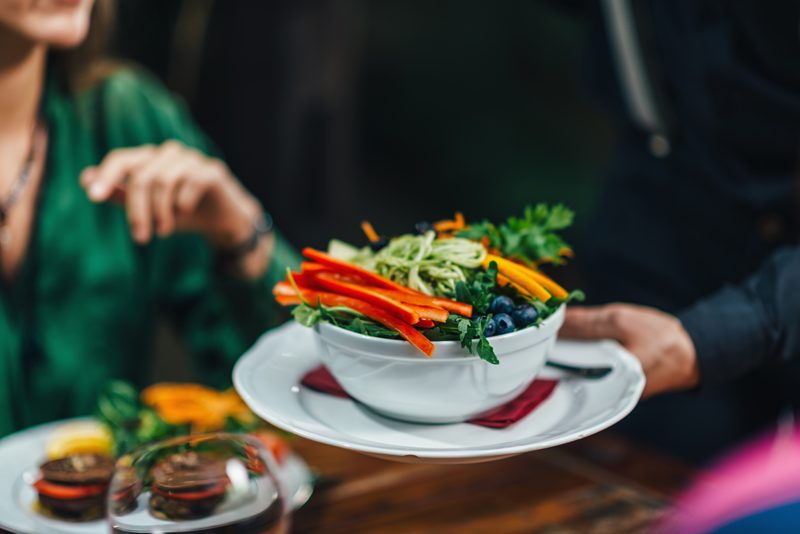 Natural Selection, Portland
Located in the Alberta district of Northeast Portland, Natural Selection is the next restaurant on the list. The area is best known for boutique shopping, art, and of course, excellent dining. Attracting vegans and clean-eaters from the surrounding areas, Natural Section offers plant-based dishes with European influences. If you're unsure of what to go for, why not opt for the prix-fixe menu and let the chefs work their magic.
Watercourse Foods, Denver
Watercourse Foods is a vegan-friendly cafe in Denver. Opening its doors a few years ago, the establishment is now a pioneer in the city's vegan food scene. The inside of the cafe has a quaint and quirky vibe, with a section of modern and understated furniture. As the whole menu is meat-free, vegans and vegetarians can choose anything they fancy.
Candle 79, New York
Vegan-friendly fine-dining restaurants can be hard to come across. Thankfully, Candle 79 offers some of the best vegan food in the US. Bringing plant-based cuisine away from its rustic origin, the restaurant is part of Manhattan's fine dining scene. Located on New York's Upper East Side, the restaurant strives to be as sustainable as possible. To do this, they only serve organic, plant-based food and use eco-friendly building materials, cooking equipment, and even cleaning supplies.
Crossroads, Los Angeles
Located in the center of Los Angeles, Crossroads is popular amongst both locals and celebrities. The interior of the restaurant is the perfect combination of chic and rustic, attracting some of the biggest stars in Hollywood. The menu is influenced by Mediterranean flavors and specializes in small dishes that are designed to be shared. A range of fresh pasta, bread, and risottos are made in-house each morning, ready to serve as a bed for their selection of meat-free dishes.
Canteen, Portland
Canteen is another Portland-based vegan restaurant. The small establishment attracts clean eaters from all over the city, enticing them with their quirky and artistic vibe. In addition to providing great food, Canteen focuses on using honest and sustainable materials in their building, cooking process, and decor.
Plum Bistro, Seattle
Last, but by no means least, is Plum Bistro. Starting as a single vegan bistro in Seattle, the chain now has three restaurants and a food truck. Since opening, the company has focused on bettering the landscape of America's food by offering a guilt-free vegan dining option. The menus for each restaurant vary based on the seasonal produce; however, they all feature meat-free dishes made from 100% organic ingredients.
In Summary
If you're looking for a plant-based dining option in the US, try one of the popular vegan restaurants above. Not only do they offer fantastic meat-free food, but many of them also use eco-friendly building materials, cooking equipment, and even cleaning supplies. Searching for a gift for your vegan friend? Consider purchasing a voucher for one of the restaurants above. If you want to go all out, you could even pair it with a yoga gift card and make an evening out of it!