With the stresses of day-to-day life leaving many people feeling tense, anxious, and downright exhausted, regular yoga practice is becoming more popular than ever. With numerous benefits to both the body and mind, yoga is the perfect way to relax and unwind after a busy day. Thankfully, most cities offer a range of different studios to choose from. In this article, we explore the yoga hotspots in Dallas. Before beginning, it's important to pick up some good-quality yoga gear.
Dallas Yoga Centre
Offering over 90 classes per week, Dallas Yoga Centre has something for yogis of all sorts. For complete beginners, the studio offers a range of beginner's sessions where students can learn the basic techniques. After learning the basics, new students may enjoy one of the calming restorative classes; practiced at a slow rate, these sessions are ideal for newbies and those hoping to unwind. More experienced practitioners may enjoy one of DYC's more vigorous sessions. Physically challenging, the more intense classes at the studio are ideal for experts looking to improve their craft.
Helping their students to build both strength and self-esteem, sessions at Dallas Yoga Centre are designed to be life-enhancing. In addition to providing an hour of physical exercise, DYC believe their sessions can reduce mental stress, heal physical injury, and eliminate emotional exhaustion. With many doctors in the city advising their patients to participate in DYC classes, it's clear that their sessions offer something special. With each class welcoming students of all ages, book yourself in for whichever sessions appeals to you.
Location: 4525 Lemmon Ave, Suite 305, Dallas, TX 75219. Time: Various sessions available. Price: Various.
Gaia Flow Yoga
Located in the heart of the city, Gaia Flow Yoga is a popular studio in Dallas. The studio's mission is to create a sacred space for students to unwind; energize; heal; strengthen their body, mind, and spiri; and live a fuller life. This, combined with their wide range of classes, encourages practitioners of all ages and abilities to attend Gaia sessions.
Teaching hot yoga classes, the studio focusses on the traditional Bikram style. The standard classes at Gaia Flow include a set series of postures with two different breathing exercises. The posture series consists of 26 Hatha asanas. These simple poses are designed to strengthen and stretch the muscles. Alongside the asanas, two different breathing exercises are used, too.
The twenty-six-posture series is designed to target each of the body's key muscle groups. When carried out in the suggested order, each asana is thought to strengthen and stretch the muscles, ligaments, and joints needed for the next posture. A well-heated room allows the muscles to fully relax, meaning that they can stretch further without injury, which helps to increase muscle strength, flexibility, and also build up fitness levels and stamina, too. The heat also helps the body to detoxify. As toxins leave through the pores, the increased blood circulation means fresh oxygen can easily be supplied to cells throughout the body. In turn, this encourages new cell production.
If you're interested in the benefits of the Bikram style, book yourself in for a session at Gaia Flow Yoga.
Location: 3000 Blackburn Street Suite 140B, Dallas, TX 75204. Time: Various sessions available. Price: Drop-In $21.00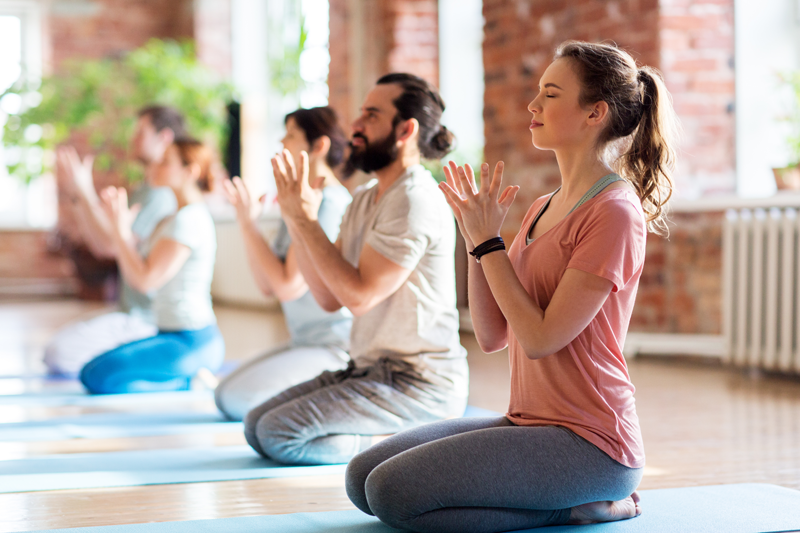 Karmany Yoga
Another popular studio in Dallas; Karmany Yoga welcomes students of all abilities – even complete beginners! The studio believes that everybody should be able to cultivate a healthier body, mind, and spirit, regardless of their skill level or budget. With this in mind, Karmany provides a range of affordable, open-level classes. Priding themselves on having some of the 'friendliest and most experienced teachers in the Metroplex', the studio is popular amongst yogis of all sorts.
Designed to be accessible to people of all schedules, Karmany classes run throughout the day, seven days a week. Whether you're an expert or a novice, suitable sessions can be attended throughout the day. Better still, the studio operates an affordable pay-as-you-go fee system, meaning that you won't get charged for classes you can't attend. The recommended fee for each class is $18. However, if this is not possible financially, Karmany just ask you to pay what fits your budget.
Location: 5014 McKinney Ave, Dallas, TX 75205. Time: Various sessions available. Price: Drop-in $18 (suggested donation).
The Yoga Movement
Providing yoga sessions with a twist, The Yoga Movement is another yoga hotspot in Dallas. While the studio takes the practice of yoga seriously, they assure students they don't take themselves too seriously!
Ideal for those looking for some lighthearted fun, sessions at The Yoga Movement incorporate traditional yoga techniques with various other styles. One of the studios most popular classes is AcroYoga. Designed to teach communication, focus, trust, and balance, AcroYoga sessions combine yoga with acrobatics. Typically, the practice consists of three main roles – the base, the flyer, and the spotter. The person taking on the role of the base will support the flyer in air-based positions, while the spotter will stand back and constructively critique their form.
While the practice has similar benefits to standard yoga, it also helps to form new relationships. It doesn't take long for partners to realize that the postures cannot be completed without both parties being fully engaged, making each individual realize how much they need the other. Promoting deep self-love and increasing empathy, the practice of AcroYoga can lead to life-long friendships. For those interested in this unique form of yoga, book a session at The Yoga Movement.
Location: 4931 Airline Rd, Dallas, TX 75205. Time: Various sessions available. Price: Drop-in $18.00.
In Summary
Whether you're hoping to sweat out toxins with a Bikram session at Gaia Flow, or you're more interested in relaxing with a restorative class at DYC, our selection of yoga hotspots in Dallas above has something for practitioners of all sorts. Before attending a local class, it's worth picking up a breathable yoga top.