Everyone needs time to relax and recuperate, especially after a busy week. Luckily, finding a natural solu-tion in the city of Atlanta couldn't be easier. With low-intensity yoga more popular than ever, new studios are appearing every day. However, for best results, it's important to find a class with experienced instruc-tors. In this article, we explore some of the best yoga hotspots in Atlanta. Before beginning, it's important to pick up some flexible yoga pants. For an on-trend option, we recommend the Ana Heart Sweatpants.
Atlanta Acro Yoga
Located in the heart of the city, Atlanta Acro Yoga offers classes with a twist. Labelling themselves as the 'Proud Sponsors of Human-Powered Flight', the studio specializes in something called 'Acro Yoga'.
AcroYoga is best described as a mixture of acrobatics, yoga, and healing arts. Boasting an array of physical and mental health benefits, the practice focusses on strength building, improved concentration, and overall stress relief. Typically, the practice consists of three main roles – the base, the flyer, and the spotter. The person taking on the role of the base will support the flyer in air-based positions, while the spotter will stand back and constructively critique their form.
While the practice has similar benefits to standard yoga, it also helps to form new relationships. It doesn't take long for partners to realize that the postures cannot be completed without both parties being fully engaged, making each individual realize how much they need the other. Promoting deep self-love and increasing empathy, the practice of AcroYoga can lead to life-long friendships. For those interested in this unique form of yoga, book yourself in for a session at the Atlanta studio.
Location: 828 Ralph McGill Blvd NE, Atlanta, GA 30306. Time: Various sessions available. Price: Various.
Evolation Yoga
Evolation Yoga is another popular spot in the city. With a range of different classes run throughout the week, the studio helps practitioners to awaken, nurture, and know their true essence. Dedicate to their students, each class teaches tools to become happier, healthier, and to live a more self-aware life. Striving to cultivate a supportive community, the studio pride themselves on creating a space that is without judgment.
Aside from teaching the ancient practice, Evolation's aim is to create the most welcoming space possible. With this in mind, practitioners of all abilities are welcome. Novices can begin with a few simple postures, while experienced yogis can challenge themselves with something more complex. The dedicated instruc-tors ensure that everybody progresses at their own rate. With the thought that yoga encourages love, compassion, playfulness, and transformation, Evolation has created an environment that allows each student to feel empowered and happy as they reach their full potential.
If you have time, the studio recommend registering and paying online prior to the class. Not only will this save time at the start of the lesson, but it will also provide peace of mind that your space is secured. Evolation students can enjoy free parking during their session. The parking deck should be accessed through the Peachtree Place entrance.
Location: 950 W. Peachtree St. N.W. Suite 210 Atlanta, GA 30309. Time: Various sessions available. Price: Drop-in $18.00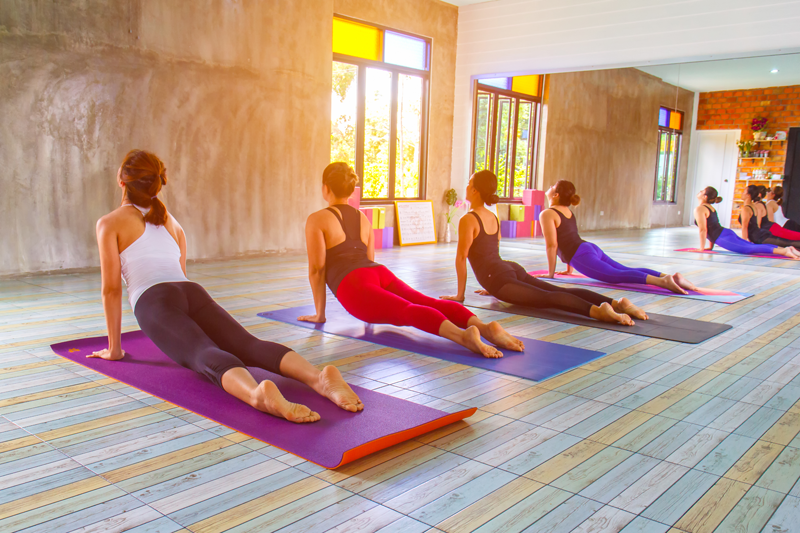 Be Hot Yoga Atlanta
Founded by experienced yogis Christina and Jason, Be Hot Yoga Atlanta offers the best Bikram classes in the city. The dedicated duo met while undertaking their training at the Bikram Choudhry training pro-gramme. After realizing that they had the same goal, they decided to open Be Hot Yoga in Atlanta shortly after qualifying. Located inside Urban Body Studios, the studio boasts personal lockers, water fountains, and changing facilities equipped with showers, bathrooms, and even hairdryers.
The standard classes at Be Hot include a set series of postures with two different breathing exercises. The posture series consists of 26 Hatha asanas. These simple poses are designed to strengthen and stretch the muscles. Alongside the asanas, two different breathing exercises will be introduced, too.
When performed correctly, the twenty-six posture series is designed to target each of the body's key muscle groups. When carried out in the suggested order, each asana is thought to strengthen and stretch the muscles, ligaments, and joints needed for the next posture. A well-heated room allows the muscles to fully relax, meaning that they are able to stretch further without injury. With the ability to stretch further during each posture, hot yoga helps to increase muscle strength, flexibility, and also build up fitness levels and stamina, too. The heat also helps the body to detoxify. As toxins leave through the pores, the increased blood circulation means fresh oxygen can easily be supplied to cells throughout the body. In turn, this encourages new cell production. If you're interested in the benefits of the Bikram style, book yourself in for a session at Be Hot Yoga Atlanta.
Location: 730 Ponce de Leon Place, Atlanta GA 30306. Time: Various sessions available. Price: Drop-in $19.00.
Stillwater Yoga
Specialising in the Iyengar style, Stillwater Yoga is an Atlanta favorite. The popular company boasts two different studios in the city. One is located in Midtown, and the second in Dunwoody. Their Midtown location offers over 30 classes, with sessions tailored to all different levels. Currently, the Dunwoody studio is smaller, with just 5 classes. Although this offers less choice when it comes to choosing a session, the smaller location does have its benefits. With the studio itself being on the smaller side, class sizes are smaller, too. With fewer students per class, each practitioner can enjoy more one-on-one time with the instructor.
Each session at Stillwater is taught by one of their experienced instructors. Each of the teachers is fully certified, with a handful working towards an advanced certification. Because of this, each instructor brings with them a wealth of knowledge to the Stillwater classes. Both of the locations are equipped with mats, blankets, bricks, and straps, so all you need to bring is yourself!
Location: 931 Monroe Drive, Atlanta, GA 30306. Time: Various sessions available. Price: Drop-in $16.00.
In Summary
Whether you're hoping to learn the Iyengar basics or you're more interested in flying high in a session of acro yoga, the selection of studios above has something for yogis of all sorts. While many locations are equipped with yoga gear, some practitioners prefer to use their own equipment. For those hoping to do so, the Ana Heart Yoga Bag is ideal for transporting gear to and from each class.